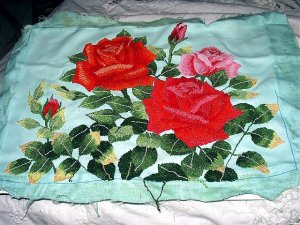 http://www.ecrater.com/p/4231428/lovely-vintage-embroidered-roses-fabricpillow
My Grandmother did similar work but hers were much more beautiful
They had more colors in the petals and leaves blending into each other .
Using thin silk thread , all her work, seemed to look delicate and have a sheen to it.
I have yet to come across anything like it. She never made me a present of any of her work.
I would have loved it.
She was not that great at knitting because she had no patterns to follow to learn stitches, but she did make a few scarves and I still treasure them because it was her hands which made them.
I am not sure I could ever emulate my Grammas' embroidery work .
She was slow and meticulous.
I still remember her making sewing patterns. She'd sometimes scratch her head and explain to me why things had to be done they way they were done. If you'd ask her a question she'd contemplate, by putting her head sideways back and forth, giving her answer as if she were learning it too for the very first time. Her eyebrows would lift as if she was surprised I asked such questions lol
She tried teaching my Mom but my Mom couldn't learn. My Mom was into cooking, which they were not. I also am not a good cook lol Just the cleaning before and after the cooking is enough to make me think, why do I need all this mess?
My aunt learned from her and they both made some pretty nice stuff.
I learned from them lol
I don't know why I didn't continue.
I think cause it was because after a few jobs, I had a lot of pin pricks in my finger tips lol
In the end both my Gramma and Aunt told my Mom I had golden hands. What ever I did, it always came out.
This was a nice compliment to me, coming from the two of them.
I think I'd like to try the cross stitch pictures they sell to frame. They should not be very hard to do.
I have two boys so always think about doing things in two's and threes just in case they want anything when I am gone to remember me by.
More projects to think about while finishing my second sockette.
lol
We make a living by what we get. We make a life by what we give.- Winston Churchill
----------------------------------------------------------------------------------------------
Cardboard Tip #3
If you're gardening in a weedy area, lay sheets of cardboard over the area. Wet the cardboard thoroughly, then spread 2-3 inches of organic material, followed by gardening soil. Wait about 2 weeks for any grass or weeds to die, then plant.
----------------------------------------------------------------------------------------
I can't seem to blog today as they have a box to say you are human but it has no letters in it to copy and without them you can't continue to comment. Hope they fix it soon.
Have A Great Day every one.:)